The world of digital marketing is moving faster than ever before. Trying to keep up with the latest trends, platforms, automation tools, to name but a few, is a challenge for any business owner and marketer – let alone knowing how to use them efficiently and effectively for optimum results.
But digital marketing doesn't have to be time-consuming and difficult. There are plenty of ways you can save time on your digital marketing efforts to maximise productivity and skyrocket your results. All it takes is a little help from the experts.
When it comes to marketing, it pays to find someone who makes it their business to know. Creating your ecommerce website, improving your search rankings, building engagement through social media networks – the more you delegate, the better you can focus on your core business.
Le Beau Clinic & Spa knows the value of working with experts.
The Perth-based beauty business has been working with digital agency Informatix since 2011.
"I have been in business for 20 years and, before Informatix, I had wasted good dollars on large digital marketing companies who promised the world but never delivered and were happy to keep taking my money," says Karen Skewes.
"Not Informatix. I have found them first and foremost trustworthy and dedicated to getting us great results."
The results speak for themselves: 11 keywords rank in the top 3 for search engine results (June 2020), and the business boasts over 12,000 Instagram followers and a Facebook community of more than 4,200.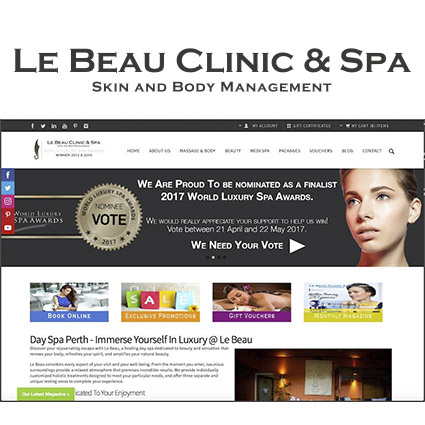 Helping Hand
Informatix provides a helping hand across the business's digital marketing, from handling the BigCommerce online shop and running customer satisfaction surveys to managing email marketing campaigns, Google Adwords and SEO. (Worried about your Google Ads? Here are 5 signs you need to bring in the experts)
Le Beau Clinic & Spa also takes advantage of Informatix's live chat software to engage website visitors in real time, answering their questions whilst they're on the site. By offering live chat, the business is avoiding one of the biggest marketing mistakes in ecommerce – making it hard for customers to contact you.
"I can honestly say I have found someone I can trust, who understands my business philosophy and culture," says Karen Skewes. "They deliver what they promised and never charge exorbitant prices. They are as keen as I am to get great results and made it their business to understand my business."
Digital Marketing
Informatix offers a one-stop-shop for digital marketing services, including website design, SEO, Google AdWords, social media, ecommerce websites, live chat and more.
With experts in platforms such as WordPress, Joomla, Google Ads, Mailchimp, Shopify, Magento, Woo Commerce, BigCommerce, Campaign Monitor, Survey Monkey, and more, Informatix can help business owners get the most out of their systems – while freeing up time to work on what they do best.
Do you want to unlock the true potential of your digital marketing systems and take your business to the next level?
By partnering with Informatix, you can get yourself in front of more potential customers and increase profits without working any harder. Speak to our friendly experts about your project today.