Posts Tagged 'Business Operating System'
Digital business management is an absolute necessity
If your company wants to remain competitive in the modern marketplace. No matter what business sector you may inhabit — and no matter its size — the advantages of having a suite of digital resources to manage that business are manifold.
Yet there are complications associated with using digital tools to manage your company. In many instances these tools, while robust, are limited by their role.
This can often result in a business having to employ a number of different stand-alone digital solutions in individual silos, making business management needlessly complex, cumbersome, and often expensive. This can sometimes place access to digital business management squarely out of reach for all but the largest companies with the resources necessary to bear these costs.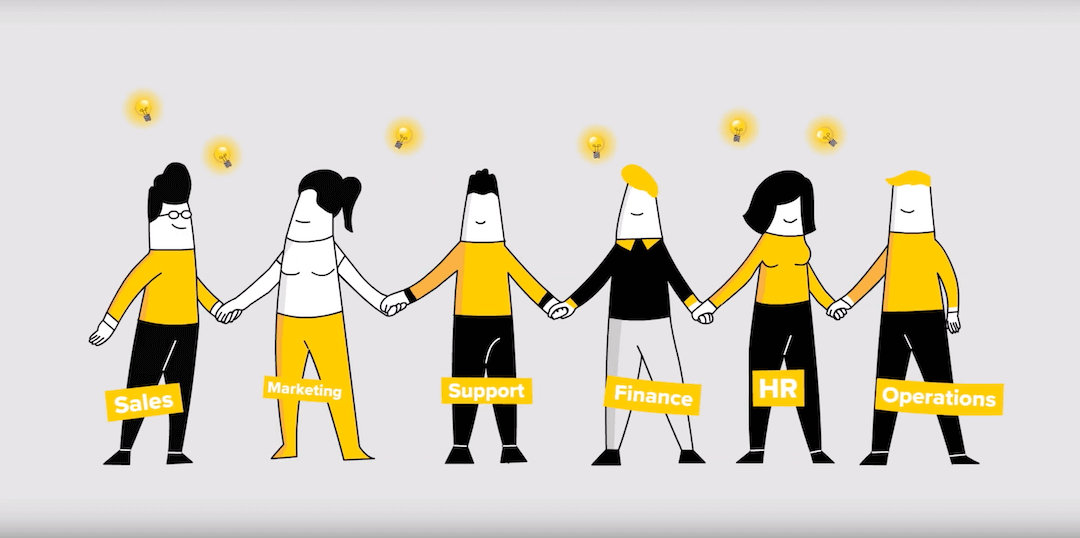 But what if there was some way to integrate all these functions together without breaking the bank? You don't have to imagine what that would be like; the Zoho One all-in-one business operating system is here, available at a price that won't strain your resources and ready to transform the way your company does business.
Robust and Capable Tools, All Under One Roof
There are literally dozens of digital business management solutions available on the market, all of which do varying jobs of providing you the tools you need to keep your company firing on all cylinders.
Zoho One is no exception to this, and its massive suite of CRM tools provide you with the deep, robust functionality you need to manage lead generation, communication, follow-up, and conversion. What differentiates Zoho One from other SaaS providers is how truly well integrated all these tools are.
Fully Integrated
When Zoho says "fully integrated", this isn't just lip service. Gone are the days of managing multiple silos — thanks to Zoho One, gone are the days of having to maintain various unconnected ecosystems just to manage different aspects of your business.
From task scheduling and client communication to document management and even social media functions, Zoho One provides it all; unlike other CRM suites that lack capabilities, Zoho One's in-app solutions and deep integration with existing third-party apps such as Mail Chimp, Office 365, and G Suite make it easier than ever to access crucial data and functionalities to support your day-to-day business tasks.
The result is a fully immersive experience that can't be beat. Deep mobile functionalities such as instant notification, offline data access, and even GPS-enabled navigation and location tracking make access to Zoho One a seamless CRM tool suite that will revolutionise the way your company does business. The best part is yet to come, however; Zoho One manages to do this without straining your resources.
Functionality and Access at an Affordable Price Point
All of Zoho One's functionalities make it a highly attractive solution for companies looking for a capable business operating system. You'd expect to pay a premium for access to such a robust CRM environment, but this is yet another example of how Zoho One differentiates itself from its competitors. In fact, unlike some other SaaS cloud-based business management options, Zoho One is remarkably affordable in comparison.
Great Value
The value that Zoho One provides only increases when you take into account the sheer amount of features you gain access to at such a reasonable price. The truth is that Zoho One offers access to more than 40 integrated apps for just one low price.
Gone are the days of having to pay for multiple digital management solutions in multiple, isolated silos that can't be integrated with one another, all for a resource-stretching premium that needlessly inflates your company's overhead costs.
Zoho One provides the greatest value for companies looking for an all-in-one solution by providing access to every app in Zoho's arsenal for a rate of just $50 per user per month. This is a true bargain, one that can't be beat anywhere.
As if that wasn't enough, Zoho One also provides high levels of back-end support for technical management that offers detailed back end capabilities for role provisioning, identity management, and other large-scale deployment issues by providing IT managers access to a full-featured Admin Panel.
You'll be hard-pressed to find that kind of functionality anywhere else!
Providing Risk-Free Peace of Mind
Migrating to a new CRM or even adopting one in the first place is a major undertaking. It's only natural to be reticent when it comes to taking the plunge and fully committing to a digital management system for your business. It's the kind of decision that can make or break a company. It can be difficult to make an informed decision without first being exposed to the environment, but many SaaS providers require a full commitment before providing you access.
This is, again, where Zoho One differentiates itself from its competitors. With our partnership with Zoho, Informatix can provide you a variety of trial options for you to test drive Zoho One to see if it's the ideal solution for your business. Whether it's a free 30-minute consultation, a detailed demo, a free 30-day trial, or a combination of all three, you can rely on Informatix to expose you to all of Zoho One's capabilities in a risk-free, pressure-free environment.
Informatix is Your Premier Zoho One Access Provider
Informatix knows what it takes to run a successful business. Our adaptive CRM implementation approach means we listen to your needs, analyse how your business operates, and understand its specific requirements before implementing systems, processes, and workflows that are specifically designed to get the best out of your people and systems.

Our partnership with Zoho is an integral component of how Informatix provides you only the best digital business management. We're confident you'll see the value of Zoho One immediately. Contact us today and we'll be thrilled to show you just we can transform your business with the help of this revolutionary all-in-one business operating system.